Empower Gen Z college students to be more green with
universities' resources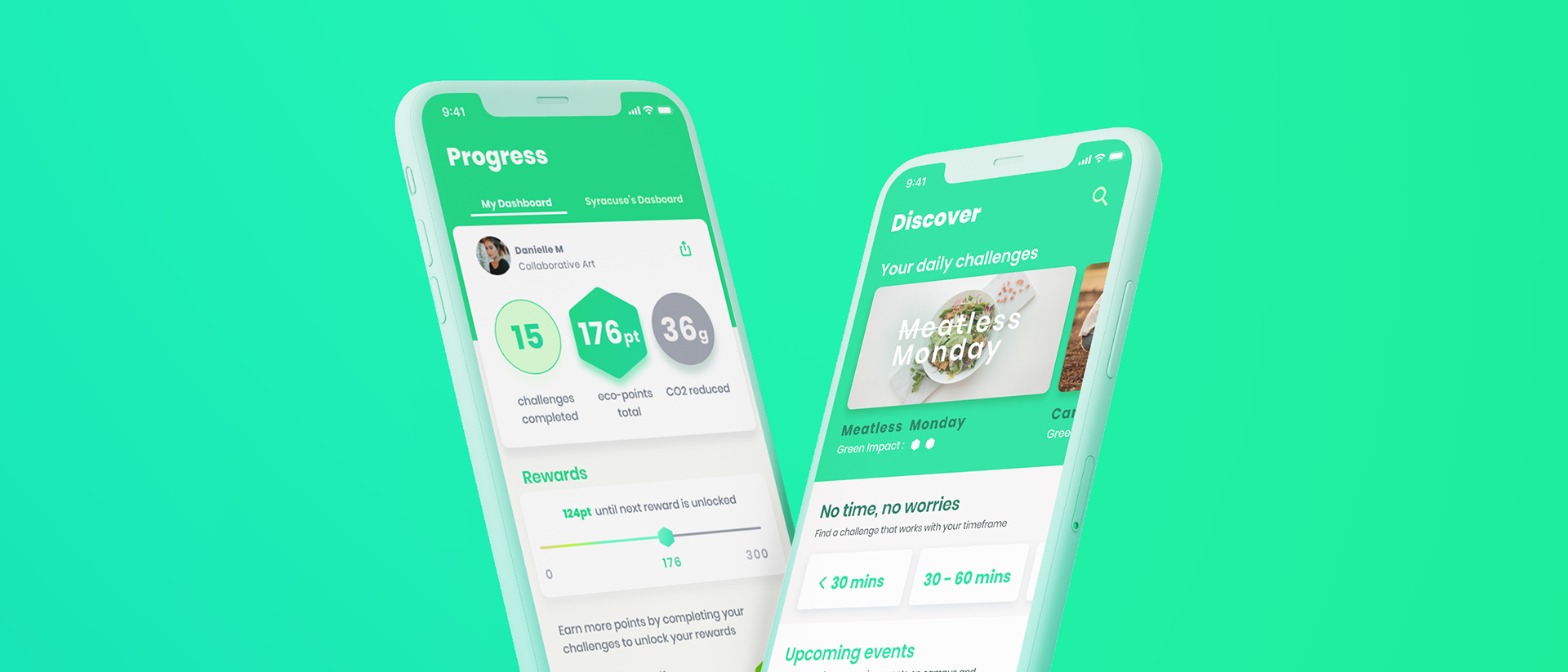 User Research, Research Analysis, 
Wireframing, 
Visual Design, Prototyping 
September - December 2019
Zoë Hoffman, 
Marcela Madera (R/GA)
Criswell Lappin, Roger Mader
GenZ is more
concerned about climate change
– and its direct impact on

their

lives –
than any generation in history.​​​​​​​
1.
According to a major new survey of young people, 
41% of Gen Z respondents

cited

global warming as the most important issue facing the world.  
2. 

Thousands of students

 

joined

Climate Strike

 to demand action on the global climate crisis on September 20, 2019 in New York City.
3.

 Greta Thunberg

becomes the

Youngest TIME Person of the Year Ever.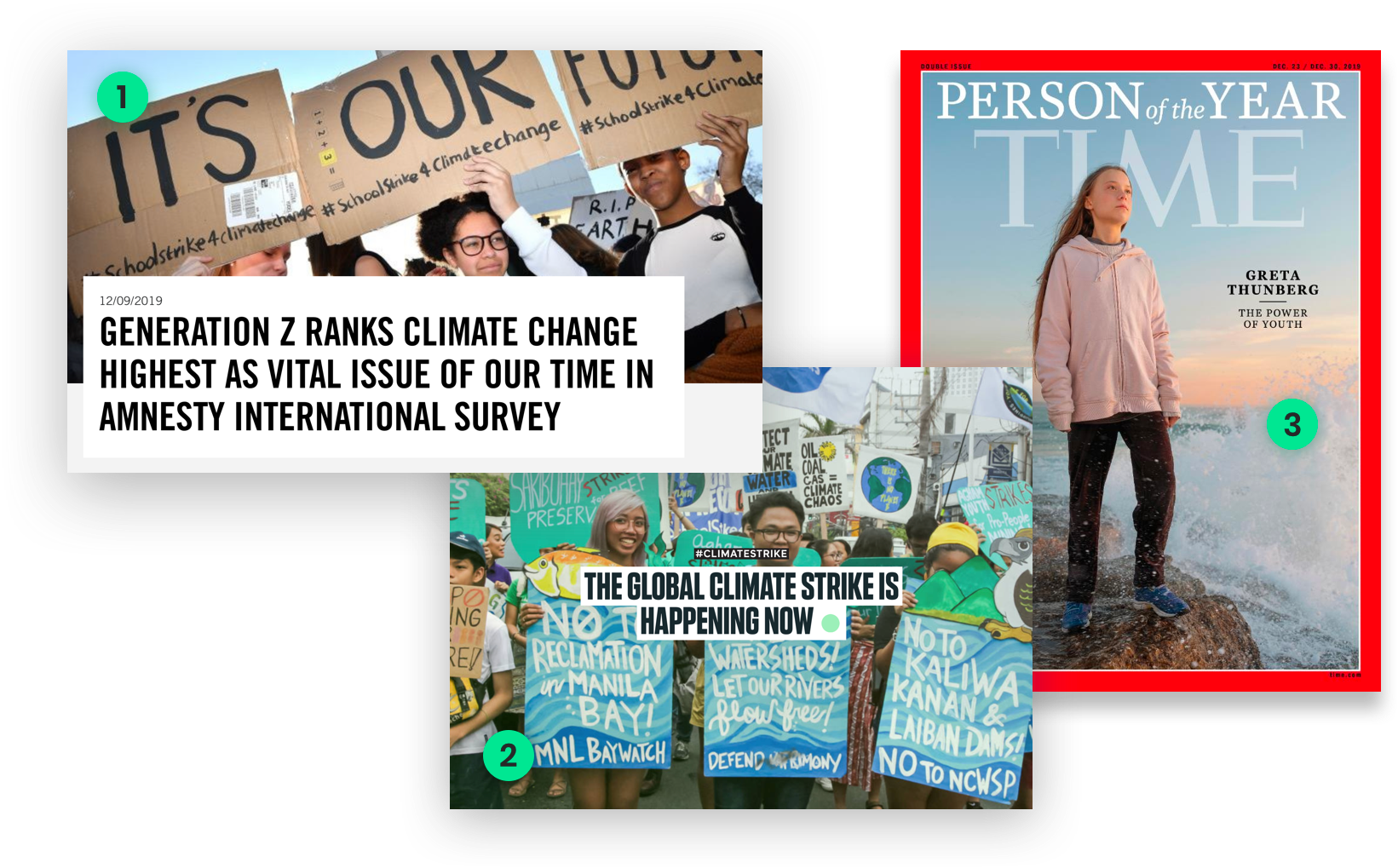 02
The Challenge  
(from R/GA)
As Gen Z enter college age, universities are feeling the pressure to

take a stand on environmental issues

or

risk losing students

to those that do.
How might a university design a differentiating college experience that

enables students to participate in the green economy

as part of their education?
Schools' Resources Research: mostly not accessible
To better understand the current situations of university's sustainability progress, We researched and analyzed sustainability related resources of 6 universities.
We found that most of the resources focused on sustainability are
out of reach and require more effort for average students to find and use.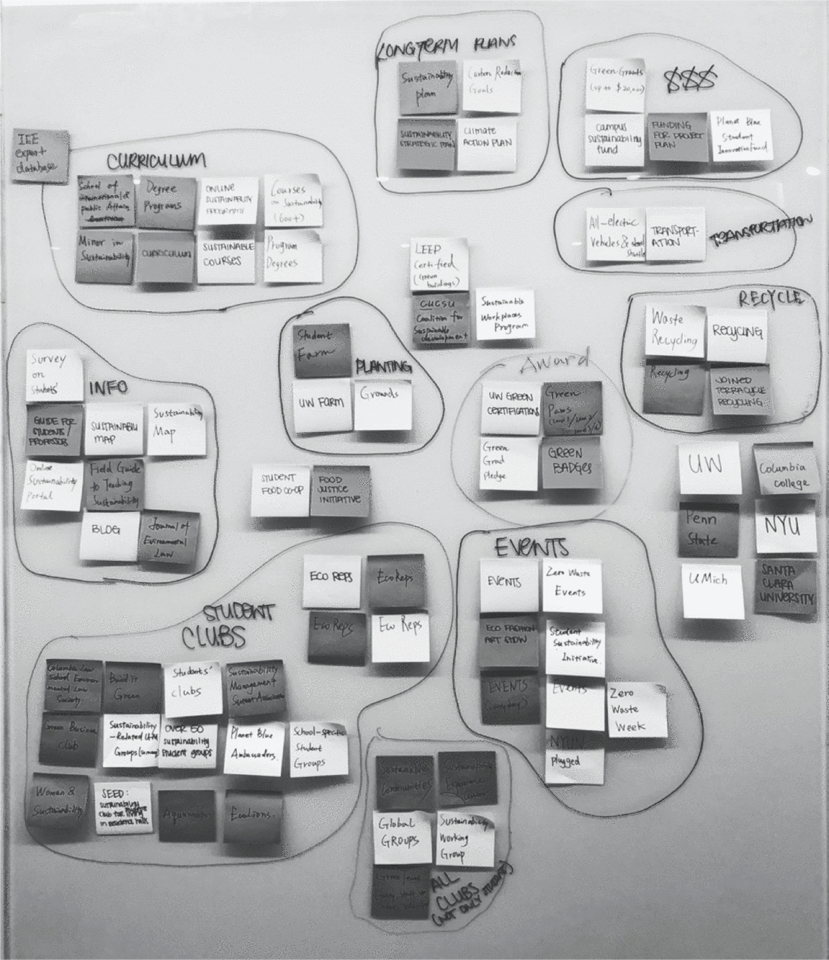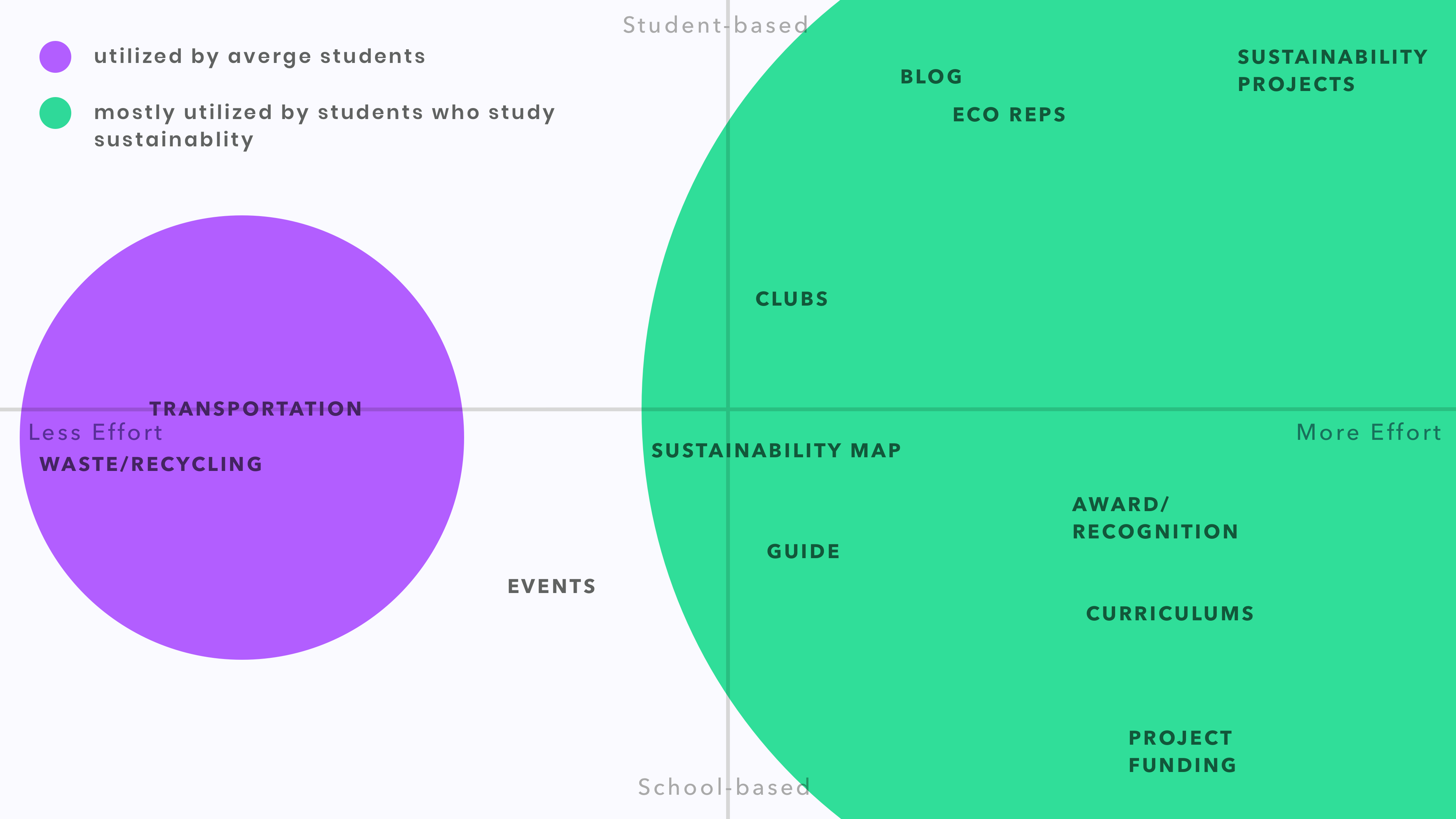 According to R/GA advisors' suggestions, We interviewed 8 different Gen Z college students in order to know their opinions on climate change and collect qualitative information about their daily life in college.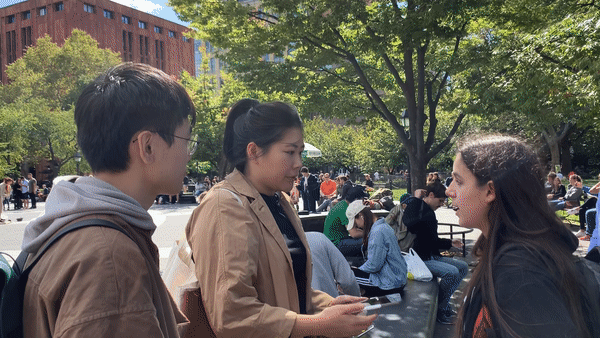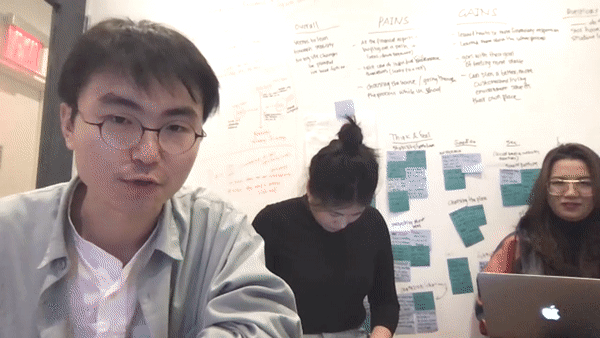 #1  
The majority of Gen Z students we interviewed found climate change
 overwhelming and stressful.


#2  
Many interviewees who are interested in taking action don't know
where to start
and
how to.

#3  
Students
find being green
inconvenient
and
not willing to make big sacrifices.


#4  
Most students think it is
hard for them to take action
because they are 
not clear about the effect of actions.

To scale down the range of our target users and be focused, we separated students in different groups based on their current activity level on climate action. Then we mapped them with different matrixs based on influence, stress, and interest in climate change.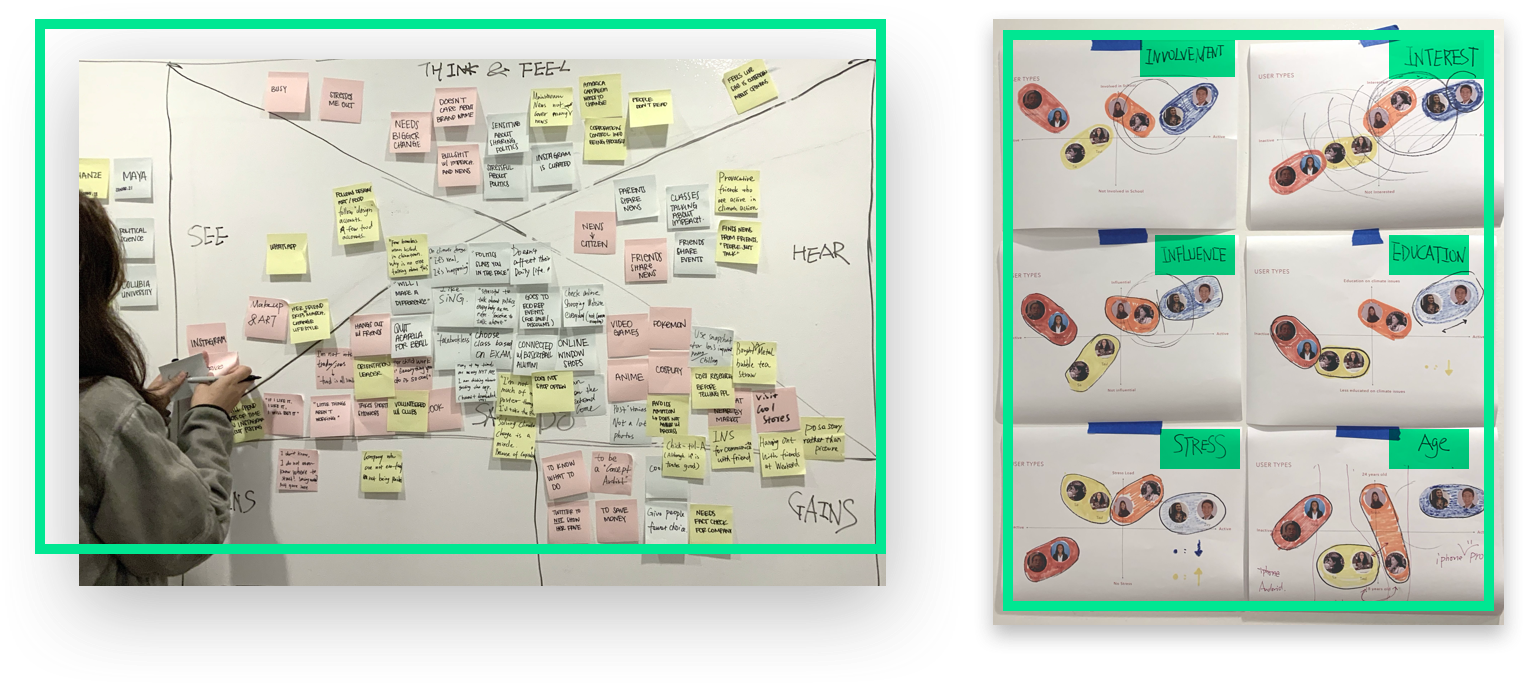 4 TARGET GROUPS & THEIR CHALLENGES & OPPORTUNITIES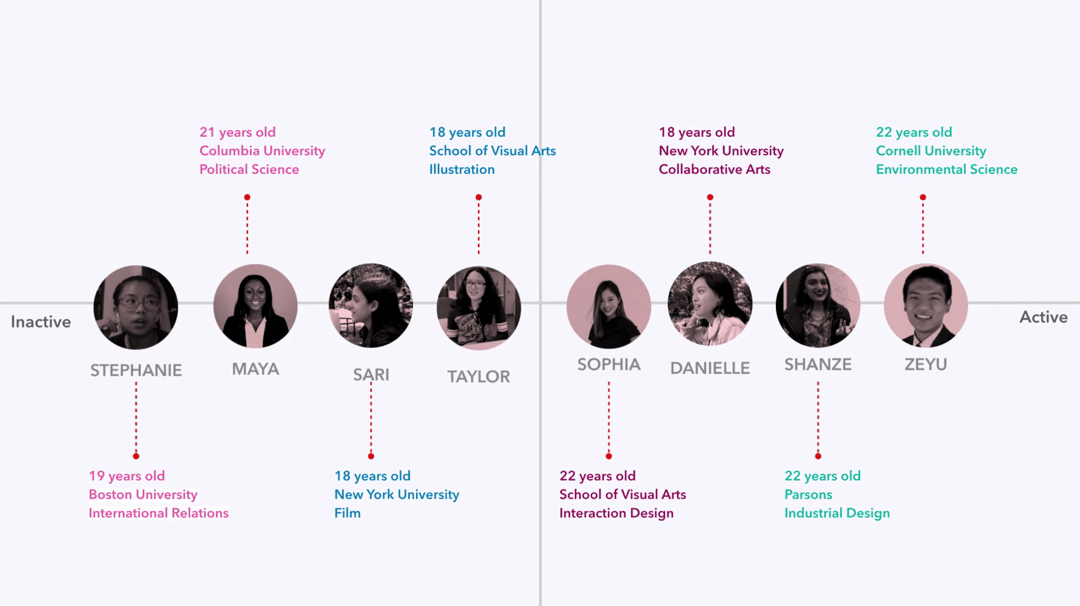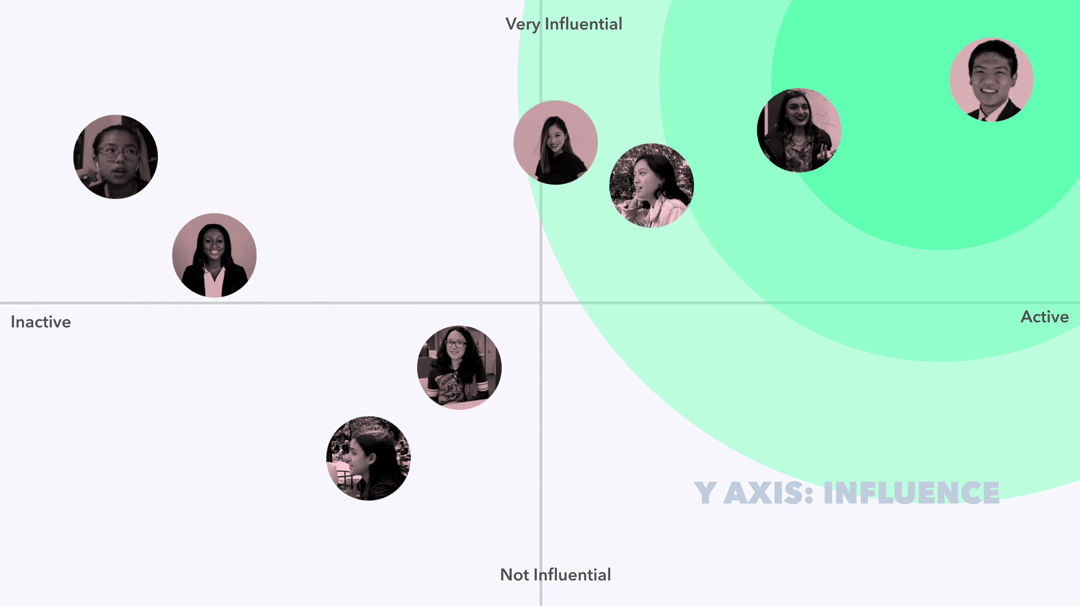 Key findings in matrix map analysis :
- Active students

influence people around them

to become more green. 
- Students who

take more action feel less stressful.
target user : the potential activists
We finally chose potential activists as our target users because:
1. They are

interested and understand

the importance of climate action
2. They are currently

not utilizing universities' resources

as much as the Influencers to help them participate
3. The solution could

scale to other groups

by solving other users' needs or through Potential Activists' influence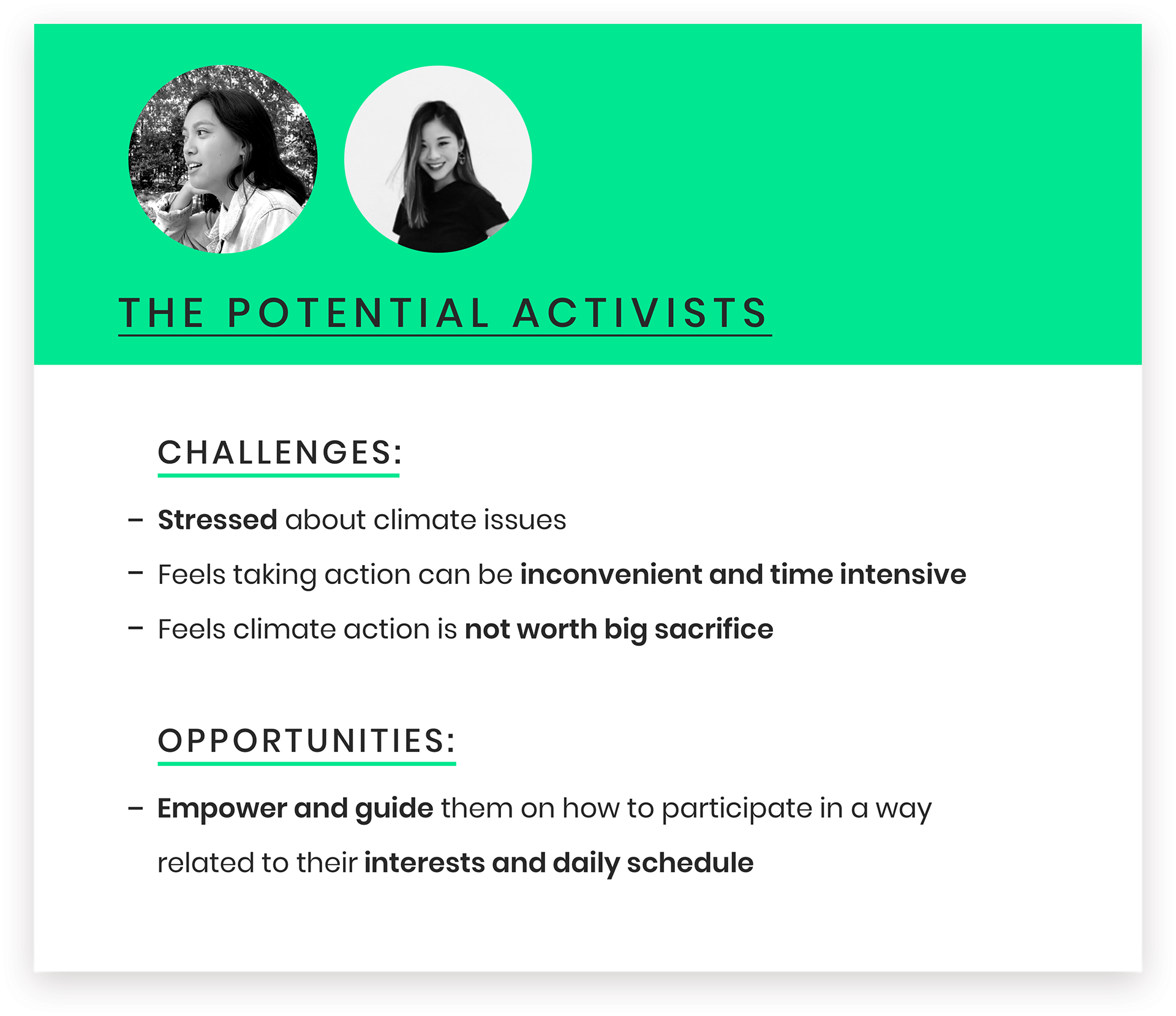 Brainstormed

the experience
We brainstormed different design solutions that not only guide them to be more green but also fit their school-life behaviors.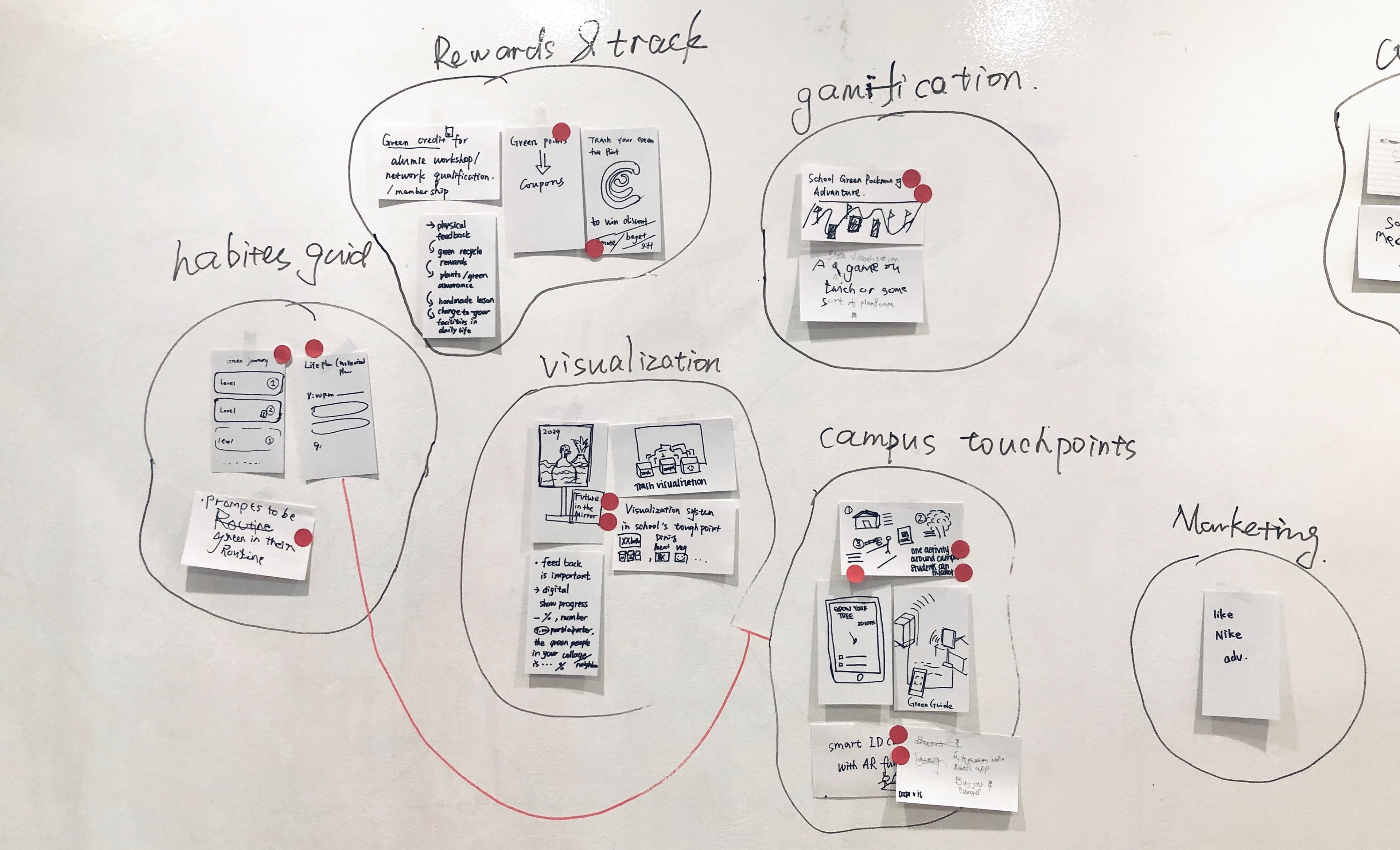 INformation architecture & wireframe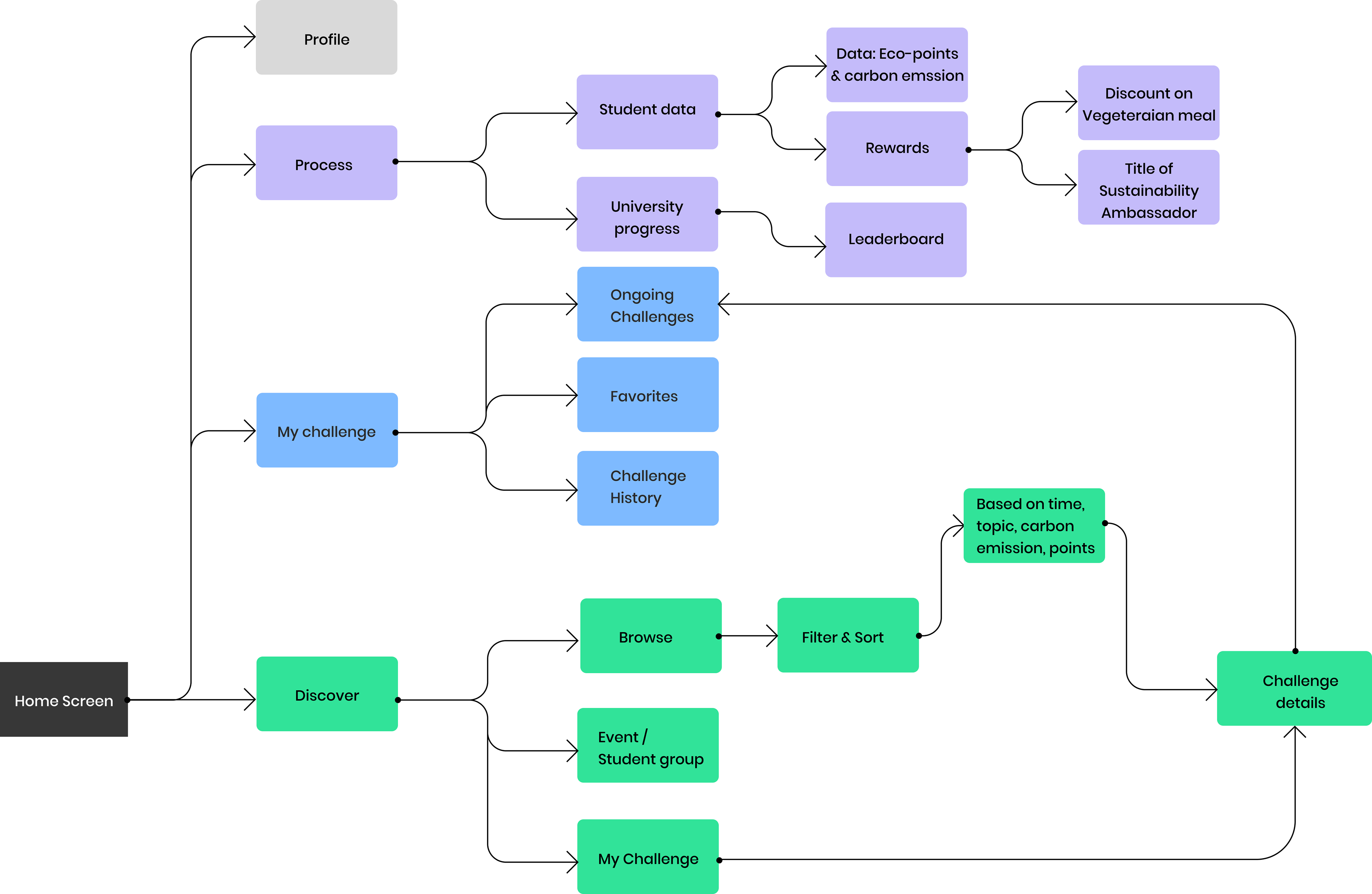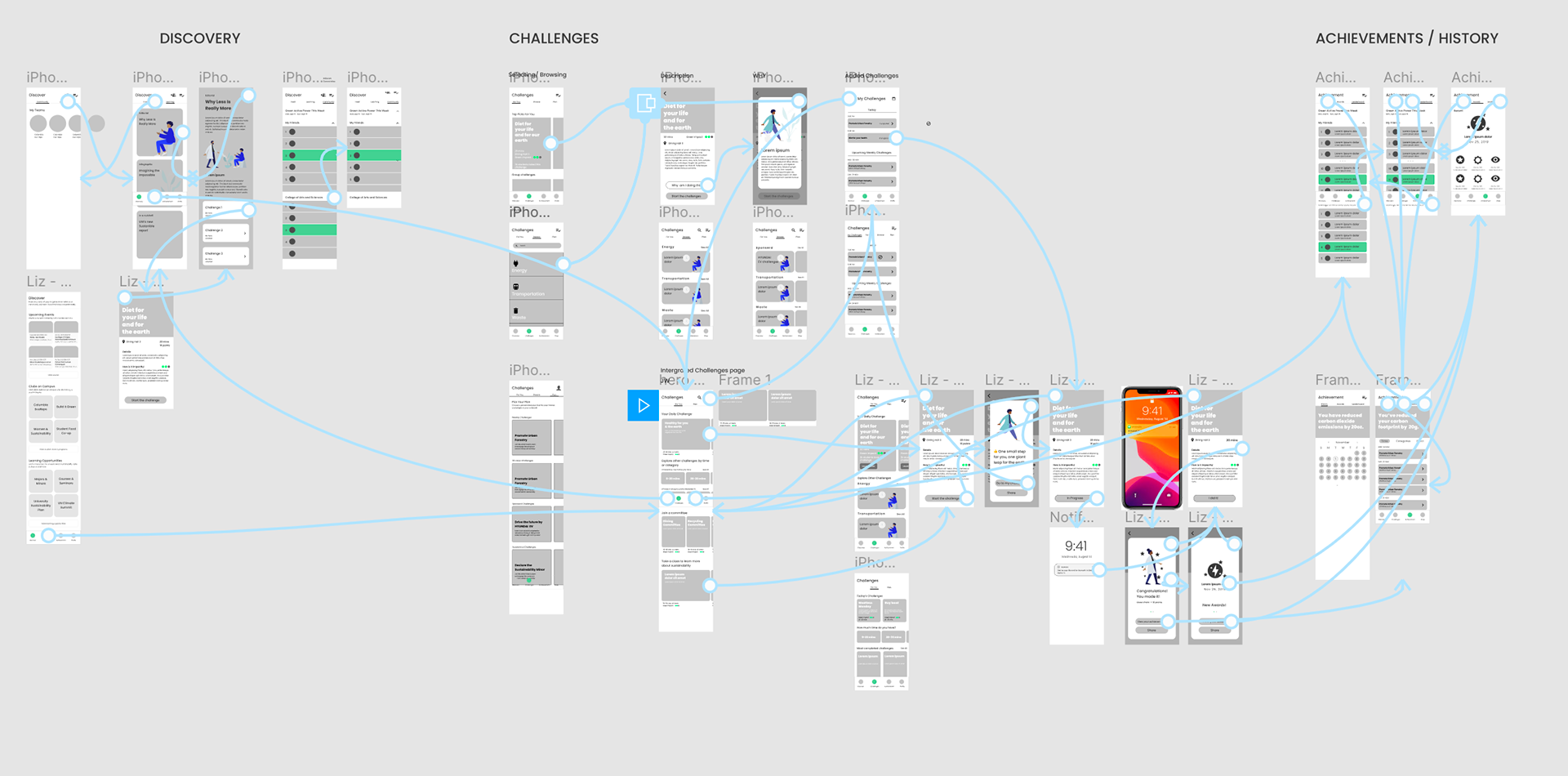 After finished the Lo-Fi prototype, We tested this idea to
Eco-reps
of Columbia University who is a student organization that promote sustainable behavior to students and implement green initiatives on Columbia's campus. 
We not only got

valuable feedback

 

on the design solution but also learned a lot about their

challenges

in promoting sustainability to students.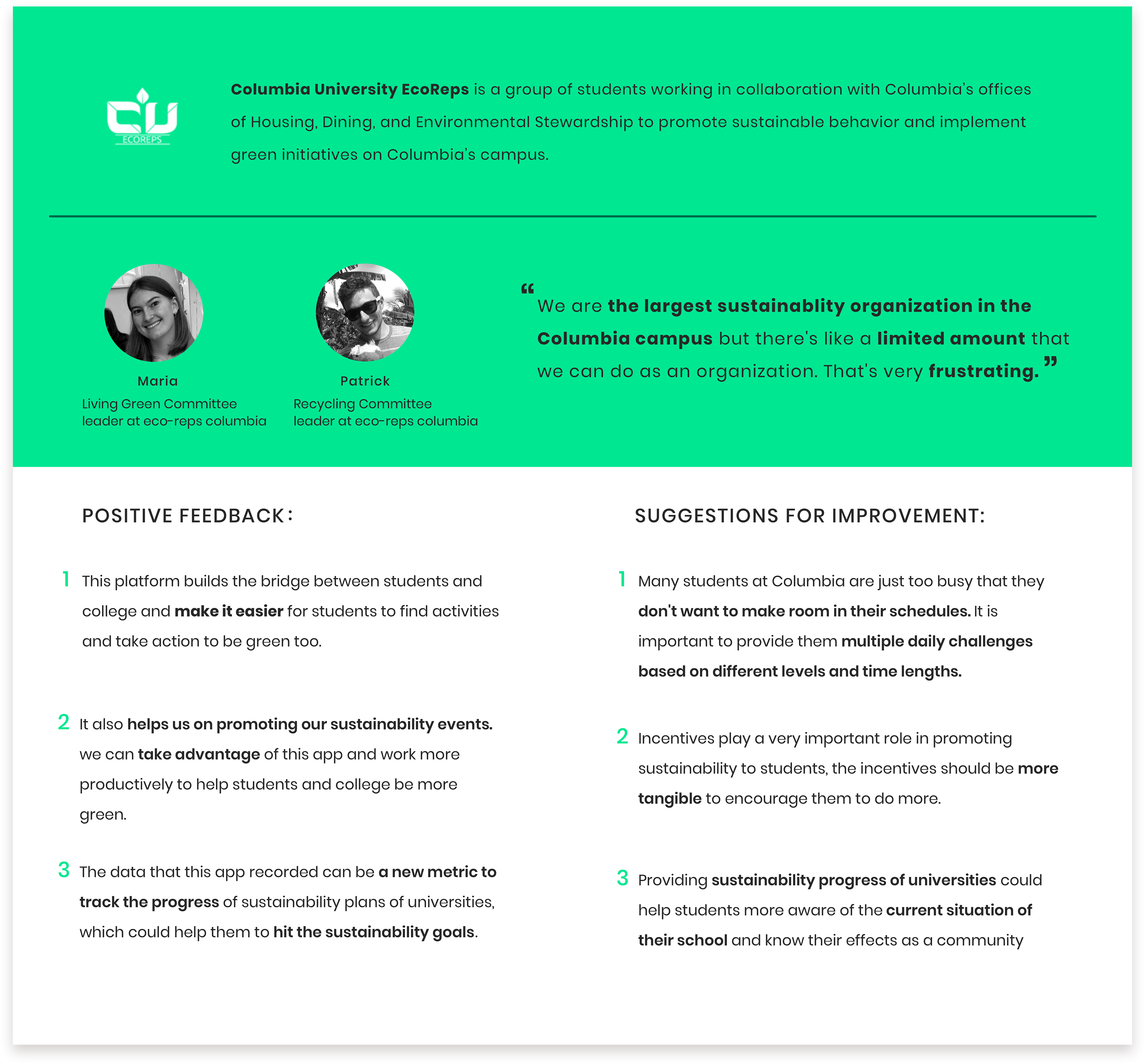 08
Iteration & Final Design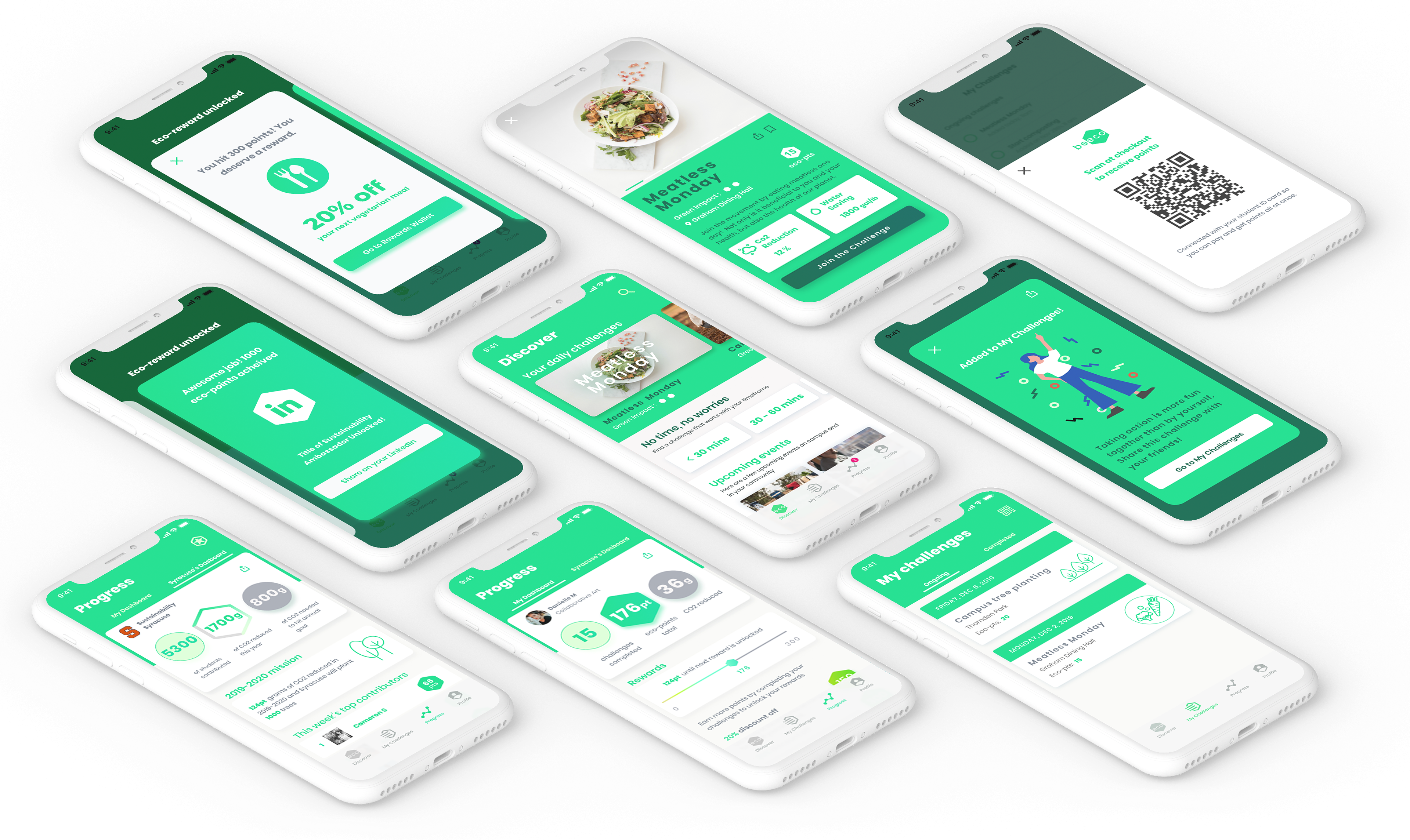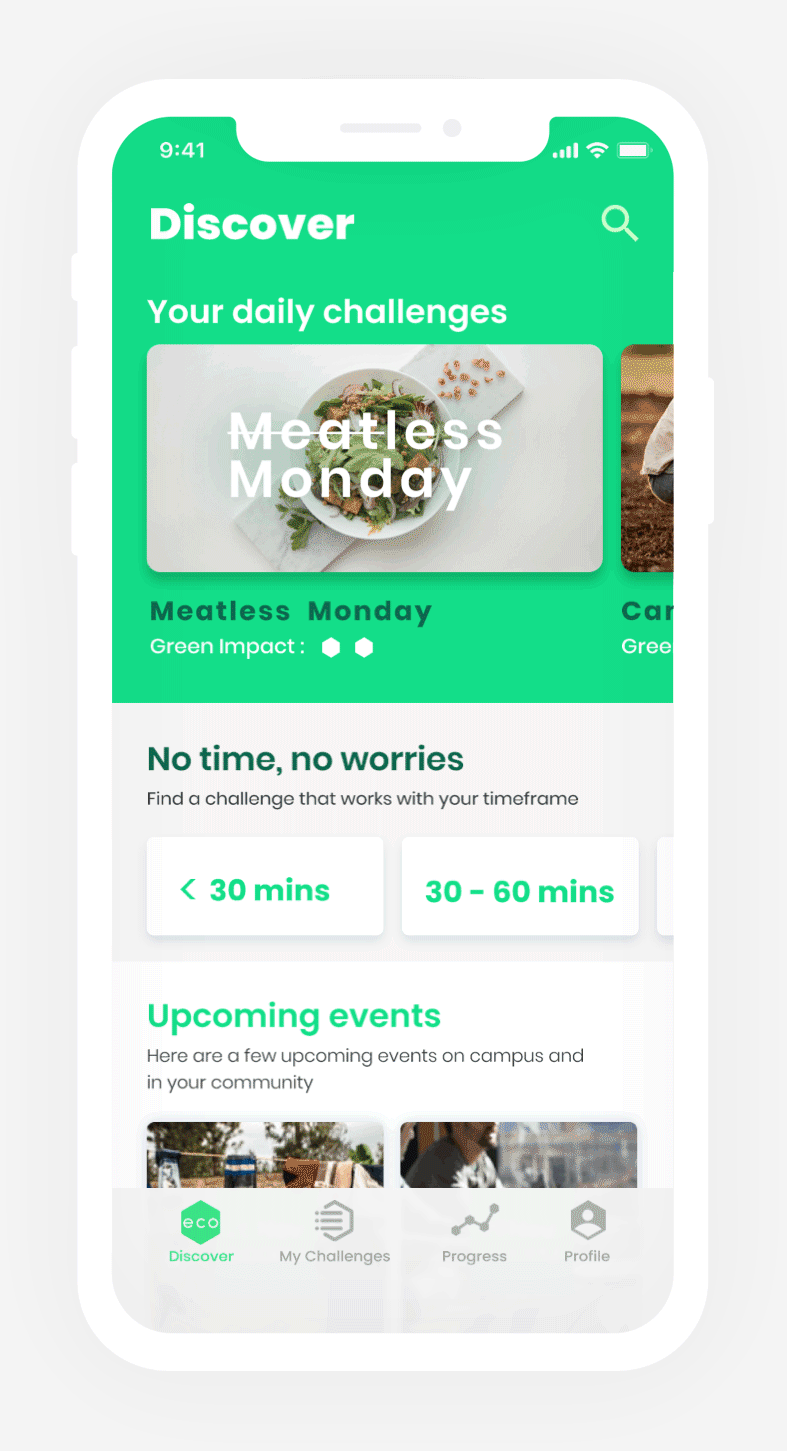 - Find the

green challenges

that fit different students'

interests and schedules

.
- Add challenges to challenges list.
- Check the information on the challenges to know

how big the impact

can be when finished.
- Get

helpful notifications

for impending challenges.   
- Show the code on the app to record and

get eco-points

when completing challenges.
-

Unlocked eco-rewards

when hit 
certain eco-points milestones.
- Track individual students' 
sustainability progress and impact
on the 
environment.
-

Check and supervize the progress of
school's 
sustainability
 plan